Above the Planet: Shell Fragments #41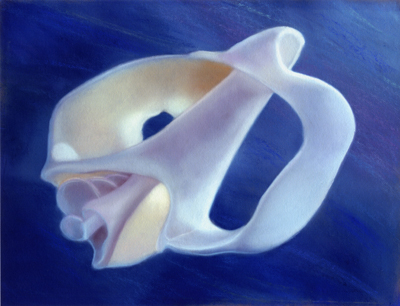 My Shell Fragments series holds many important metaphors for me: soaring flight, escape, and freedom from rules. Inspired by Georgia O'Keeffe's bone paintings, each in my series is the result of the question, "Why not?" The title came from a Pink Floyd lyric, the song "Learning to Fly." The original medium, soft pastel, perfectly captured the many hues of white and the rich cobalts of the ocean far below. (I think the shell is orbiting the earth, but that's just me.)

To share this delightful image with you, I offer a limited edition of 250 giclées at the original size of 18" x 24" on canvas, for $270 per print; and an edition of 250 on 22" x 30" varnished canvas for $350 each. There are three editions on acid-free paper: image size 18" x 24" for $165, limited to 200; image size 22" x 30" for $240, limited to 200 pieces; and an image size of 9" x 12", of 500 pieces, for $60. I have signed and numbered each piece individually. Upon request, a Certificate of Authenticity is available on this and all of my giclée reproductions.


Home - About Donna - Contact - Blog - How to Order - Artwork Index - Links
This site and its contents Copyright © 2010 Donna M. Kazo.
Proud to be hosted by Green Gator; powered by clean, sustainable wind energy.