Teapot Conversations #3: Are You Okay?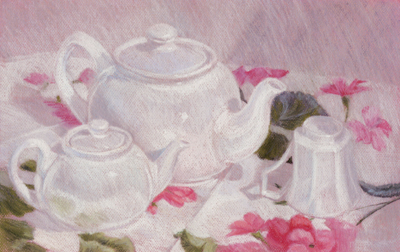 Although these teapots look almost like mother and daughter, they came to me from different sources. The octagonally-shaped teacup I'd collected years ago. My love of painting white objects was truly tested in this pastel! Shapes, shadows, reflections, the right cup of tea for an artist who adores her subjects. The title just jumped out at me, always a glad event and not too common. We all need a touch of whimsy in our lives, don't you agree?

The original, painted in rich strokes of soft pastel on paper, was around 12" x 18", and I offer an edition of 500 giclée reproductions, on 10" x 16" varnished canvas, for $140 each. This image is also available on highest-quality paper, image size 10" x 16", limited to 750 prints, for $75 each. I have signed and numbered each piece individually, and a Certificate of Authenticity is available upon request.


Home - About Donna - Contact - Blog - How to Order - Artwork Index - Links
This site and its contents Copyright © 2010 Donna M. Kazo.
Proud to be hosted by Green Gator; powered by clean, sustainable wind energy.