Carambola Pair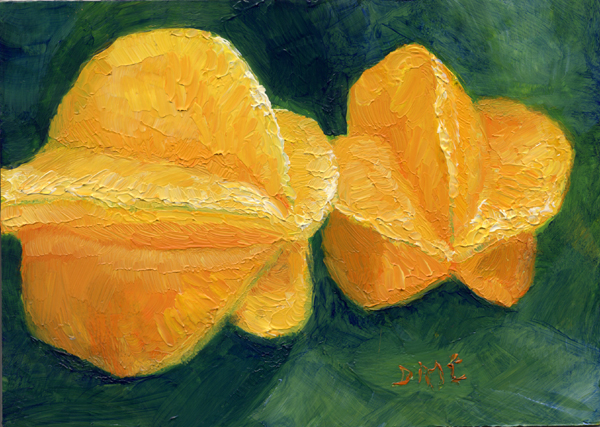 The larger fruit in my single study was joined by a friend of a slightly more orange hue; both came from my backyard tree, here in Florida, In the 1970s, this tropical fruit, native to Southeast Asia, was cultivated at the USDA Subtropical Research Unit in Homestead, Florida, for its potential as a very marketable fruit. I was lucky enough to know the scientists and to sample several "experiments" over the years.

Carambolas make wonderful pies, better than apple, did you know? You cannot grow apples in Florida very well, but carambolas are superb backyard trees and generous in their bounty.

Thanks to CafePress, images of these juicy, crunchy fellows are available for purchase in various budget-friendly ways. The original oil/alkyd was painted on a 5" by 7" panel, so they look just great on postcards. Please look for carambolas in your neighborhood supermarket; it was a long journey for them and they would like to be appreciated!


Home - About Donna - Contact - Blog - How to Order - Artwork Index - Links
This site and its contents Copyright © 2010 Donna M. Kazo.
Proud to be hosted by Green Gator; powered by clean, sustainable wind energy.