Carambola Study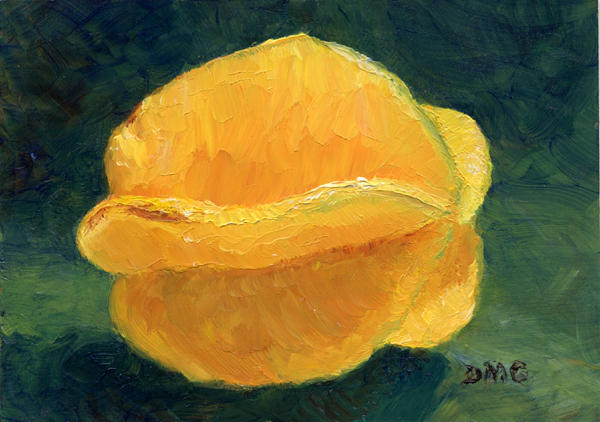 The original alkyd/oil painting was only about 5" by 7" as the single fruit did not call for too expanded of a size. What attracted me to this subject was the translucency of its flesh, which I know from years of personal experience to be crunchy and juicy, not too sweet, usually a bit tart. My mouth is beginning to water as I write this!

The carambola is also called star fruit, because when sliced, stars appear. It makes a delightful garnish as a result.

One challenge when painting yellow is that it is naturally a high-key hue, and there are not many ways to show depth and shadow without making the yellow look, well, "dirty," Lucky for me, this tempting fruit varied from orange to green, which border yellow on the color wheel, and allowed me to sculpt its complicated shape with my brushstrokes. Thanks to CafePress, I am able to share my image with you in several budget-friendly ways. Please follow this link to my CafePress shop and I hope your mouth waters too!


Home - About Donna - Contact - Blog - How to Order - Artwork Index - Links
This site and its contents Copyright © 2010 Donna M. Kazo.
Proud to be hosted by Green Gator; powered by clean, sustainable wind energy.