Silver River: Depths and Reflections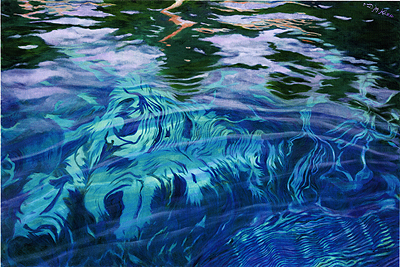 A few years ago, a group of us Paddle Pals got together and explored by canoe some of the rivers in Central Florida. Most are close to Ocala National Forest and are mainly spring-fed. This means that they are very clear rivers, with little buildup of the tannin that causes some rivers to be brownish in hue.

Silver Springs is known world wide for its first magnitude spring, and it is even claimed to be the world's largest artesian spring. The day we paddled over the large round cauldron of the spring, keeping an eye on the glass-bottomed boats filled with tourists, it sure did seem likely that 500 million gallons were lunging forth far below our hulls.

We'd paddled upstream along the river fed by this mammoth spring from a put in point about four miles away, and after marveling at the spring we headed back with the current. This river is also called Silver but as I dipped my paddle into its crystalline waters, I thought of other names, based on pigments such as "Ultramarine River," Cerulean River," or even "Manganese Blue River." Looking into its depths was like looking into a swimming pool with a bottom of white sand and dark grasses. This was the only river I'd ever canoed where I saw wild turkeys flying, otters swimming next to us, a ginormous 'gator in his own Lazy Boy recliner, and monkeys.

Many moons ago, "Tarzan" movies were filmed here, and perhaps that's when the monkeys arrived; it's also claimed they escaped from a medical research facility. They are rhesus monkeys and not to be messed with, so if you go, don't feed them or get out on the shore where they live!

What completely mesmerized me was gazing into the watery depths, noticing the patterns of the grasses against the creamy sand, while the reflections of the cypress trees along the bank wavered and floated, disturbed by our paddles. I took many photographs with the determination of inspiration.

It took this painting years to be completed. I made drawings in black and white of the patterns on the river bottom and studied how the action of the surface of the water affected those shapes. Finally I had a composition worked out; the ripples on the lower right corner of the painting were caused by Tom's paddle. Meanwhile, I played with oil and alkyd paints and glazes and decided on particular pigments, choosing the most transparent ones on the market. I stretched a canvas 24" by 36", kind of a large size for me.

And began to apply thin washes of color to the canvas. Thrilling!

Eventually I'd created the bottom of the river. And then other things took me away from the painting, but as is my habit, I kept it where I could see it during my daily round. That's how I let my paintings develop, so I can see them with a fresh eye and perhaps a solution will present itself.

It was creating the illusion of depth, and then the reflections, that held me back for years. Yes, years. A fortuitous discovery, then: a specific brand of oil paint with a particular viscosity, a hue of lavender just right, brought this image into finalization.

Since it's been completed, I've heard so many compliments, such as "mystic," "relaxing," "sublime," "magical," and some folks even claim to see the shapes of animals in the patterns! And through the magic of our Digital Age and the process of museum-quality giclee printing, I can share this image with you without having to give up my original painting.

Prices quoted do not include sales tax or shipping. Giclées on museum-quality varnished canvas at the original size of 24" by 36" are $430.00, in a limited edition of 250. Giclées on canvas at a reduced, but proportionate, size of 18" by 27" are $270.00, also in an edition limited to 250. Giclées on paper, image size of 18" by 27" are $250.00, edition 250. For those with limited wall space but who really love this painting, I offer an edition of 500, with a 12" by 18" image on paper, only $88 each. I sign and number each piece individually.

Recently I was thrilled to see my "Silver River: Depths & Reflections" in a size larger than the original! Thanks to my good friends at Allstate Resource Management in Davie, Florida, we decided to open an edition of 250 on canvas, 48" wide by 32" tall! ARM's mission is to keep lakes throughout South Florida clean and clear, so this was a natural choice for their brand new conference room. And it seems as if this larger size is completely natural to the image, as if I should have painted the original this big! Below is the photo of ARM employee Lari next to their giclée. This size is $700.00. A Certificate of Authenticity is available upon request.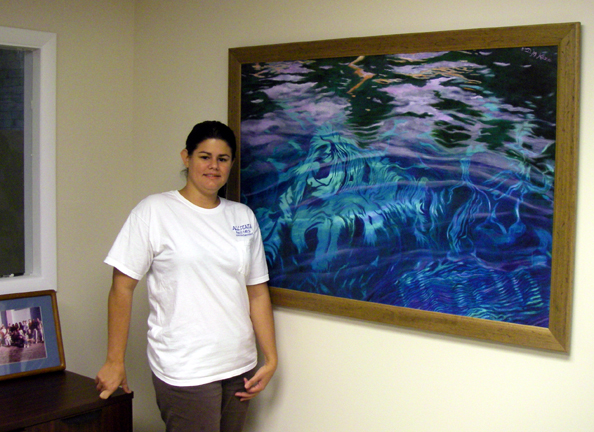 I have photos of the process of bringing this image to life scattered throughout my archives and will add them to this page as I discover them. In my 30+ years of painting, I've learned that people like to see the various stages of a work in progress.
In the works are other paintings of this gorgeous river: one I heartily endorse for canoeists, kayakers, anyone in need of a delightful paddling experience. Perhaps I will even see you on Silver River: keep your eye out for our famous black Wildlife Research Team canoes.


Home - About Donna - Contact - Blog - How to Order - Artwork Index - Links
This site and its contents Copyright © 2010 Donna M. Kazo.
Proud to be hosted by Green Gator; powered by clean, sustainable wind energy.