Teapot Conversations #2: Don't Jump!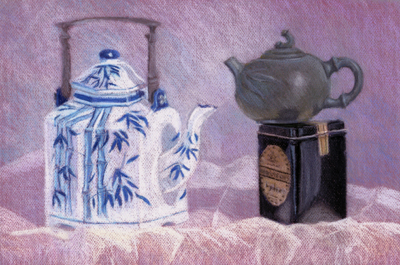 A whimsical concept sure to bring a smile when you tell someone the title! I balanced the Yingko teapot upon a canister of my favorite lychee tea from Harney's Tea Company, and prayed the cats wouldn't knock it over as I painted as fast as I could. The blue and white bamboo-patterned teapot is an unusual hexagon shape, a challenge to capture in soft pastel. This reminds me: I need to order more lychee tea from Harney's!

The original, painted in rich strokes of soft pastel on paper, was around 12" x 18", and I offer an edition of 500 giclée reproductions, on 10" x 16" museum-quality varnished canvas, for $140 each. This image is also available on highest-quality paper, image size 10" x 16," limited to 750 prints, for $75 each. I have signed and numbered each piece individually, and a Certificate of Authenticity is available upon request.


Home - About Donna - Contact - Blog - How to Order - Artwork Index - Links
This site and its contents Copyright © 2010 Donna M. Kazo.
Proud to be hosted by Green Gator; powered by clean, sustainable wind energy.