Early Moonrise: Shell Fragments #4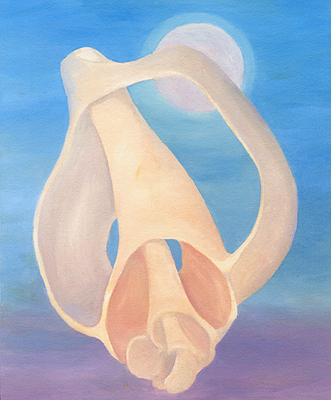 Georgia O'Keeffe's bone paintings were a major inspiration for my Shell Fragments series. And when I learned that the full moon rises at sunset, it inspired this particular image, a bit of fantasy, originally painted in oil on canvas, 24" x 20". People who have bought images from my Shell Fragments series say they enjoy the peaceful and meditative qualities they discover within.

To share this mystical image with you, I offer high quality limited edition giclées: 250 pieces on 24" x 20" museum-quality varnished canvas (same size as the original) for $280 each; an edition of 200, image size 24" x 20" on acid-free paper, for $175 each; and an edition of 500, also on museum-quality paper, image size 12" x 10," for $60 each print. I have signed and numbered each piece individually, and a Certificate of Authenticity is available upon request.


Home - About Donna - Contact - Blog - How to Order - Artwork Index - Links
This site and its contents Copyright © 2010 Donna M. Kazo.
Proud to be hosted by Green Gator; powered by clean, sustainable wind energy.