Flight of Fancy: Shell Fragments #30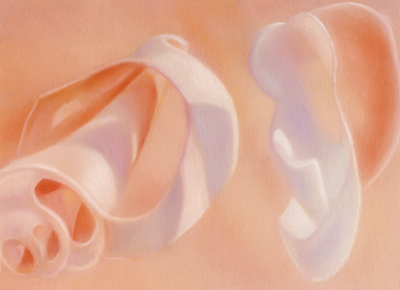 This pastel is all about light and flight. It was painted from "life" after I posed my small "models" after a long period of arrangement for the most delightful patterns of light and shadow. Two wave-sculpted, sunbleached seashells gathered on Florida's west coast beaches became metaphors for flight. The title came from a Pink Floyd lyric, the glorious song, "Learning to Fly" which has inspired me through the years and suggested names for more than one painting.

I offer a limited edition of 250 giclées at the original size of 18" x 24" on museum-quality varnished canvas, for $270; and an edition of 200 on 22" x 30" canvas for $350. There are three editions on highest-quality paper: image size 18" x 24" for $165 each piece, limited to 200; image size 22" x 30" for $240, limited to 200 pieces; and an image size of 9" x 12", limited to 500 pieces, for $60 each print. I have signed and numbered each piece individually. A Certificate of Authenticy is available on this and all of my giclée reproductions, upon request.


Home - About Donna - Contact - Blog - How to Order - Artwork Index - Links
This site and its contents Copyright © 2010 Donna M. Kazo.
Proud to be hosted by Green Gator; powered by clean, sustainable wind energy.