Teapot Conversations #4: Log Cabin Theme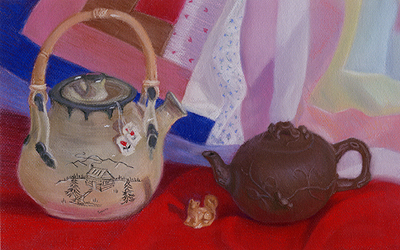 Hours and hours of developing the theme: the teapot came from North Carolina, the potter lives within the log cabin she inscribed into the teapot itself. The Log Cabin quilt is mine, the Red Rose Tea critter is a pine marten. (Note the Red Rose tea bag tags.) The Yingko teapot from China had a squirrel or three on it, a link to the theme of a cabin in the woods. The trickiest part was keeping my still life setup from being disturbed by our cats during the completion of the painting!

The original, painted in rich strokes of soft pastel on paper, was around 12" x 18," and I offer an edition of 500 giclée reproductions, on 10" x 16" museum-quality varnished canvas, for $140.00 each. This image is also available on highest-quality paper, image size 10" x 16," limited to 750 prints, for $75.00 each. I have signed and numbered each piece individually, and a Certificate of Authenticity is available upon request.


Home - About Donna - Contact - Blog - How to Order - Artwork Index - Links
This site and its contents Copyright © 2010 Donna M. Kazo.
Proud to be hosted by Green Gator; powered by clean, sustainable wind energy.