The Mangrove Dragon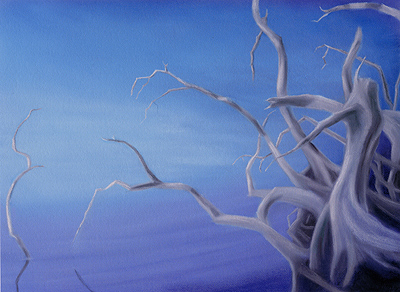 In 1992, Hurricane Andrew devastated Miami, and the mature mangrove forest of Matheson Hammock was flattened by the winds and waves coming off Biscayne Bay. For years, these tough old relics hung on, growing ever more silvery and rather Dalí-like, especially when the horizon melted into mist, as it did on this summer day. The qualities of the original medium of soft pastel helped me to capture the mysterious mood. This is one of my Canoe View paintings, because due to their location, these trees could be reached by no other mode of transport. This is the habitat restored by those of us in Wildlife Research Team, and is fully functioning again today. Although the mangroves are thick and green, at times I can still see what's left of these ghostly relics within the healed forest, and remember...

I offer a limited edition of 250 giclées at the original size of 18" x 24" on museum-quality varnished canvas, for $270; and an edition of 250 on 22" x 30" canvas for $350. There are three editions on highest-quality paper: image size 18" x 24" for $165, limited to 200; image size 22" x 30" for $240, limited to 200 pieces; and an image size of 9" x 12", limited to 500 pieces, for $60. I have signed and numbered each piece individually. A Certificate of Authenticy is available on this and all of my giclées reproductions.


Home - About Donna - Contact - Blog - How to Order - Artwork Index - Links
This site and its contents Copyright © 2010 Donna M. Kazo.
Proud to be hosted by Green Gator; powered by clean, sustainable wind energy.