Miss Tilly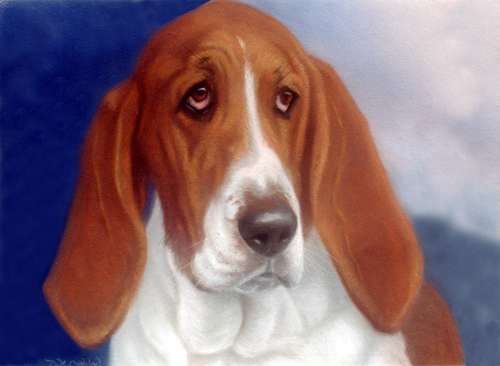 Blue is one of my favorite background colors, because of the laws of optics and of complementary colors: on the color wheel, it's the opposite of orange. Colors which are complements to each other make each other "pop" when placed next to each other. It's how our eyes are made. Artists take advantage of this: we are terribly limited in our pigments, and need every assistance to get our paintings to a higher level. So, as many animals have a red-orange tone to them, placing them against blue helps their coat to vibrate optically.

Basset hounds remind me of little kids in ghost costumes. Take a sheet, cut out those typically oversized eyeholes, and they peer through them with much of their little faces visible. I noticed Miss Tilly's supple skin hung loosely on her ample torso in much the same way, and was most noticeable around her soulful eyes.

When shown the finished portrait, her owner scared me by clutching her chest and almost falling backwards off her chair. She wasn't kidding! She really loves this doggy and apparently I'd surpassed her highest expectations, although fortunately she did not go into cardiac arrest. I really live for reactions like this! All those long hours in the studio paying off big time, and I've tapped into the vein of love once again. How about letting me pop out that reaction from you with a portrait of your darling?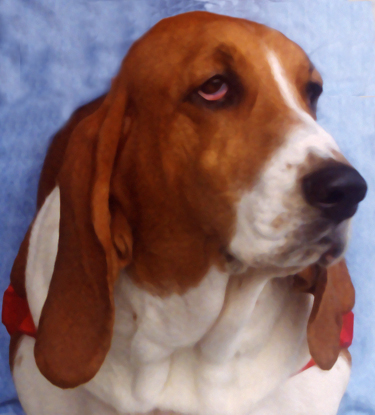 Home - About Donna - Contact - Blog - How to Order - Artwork Index - Links
This site and its contents Copyright © 2010 Donna M. Kazo.
Proud to be hosted by Green Gator; powered by clean, sustainable wind energy.