Myakka River Tapestry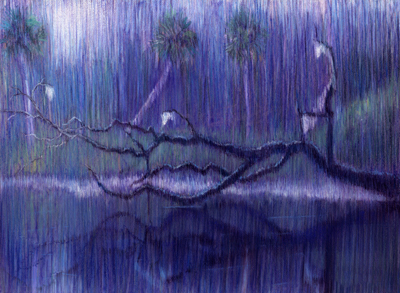 I have always been entranced by the concept of threads of pure pigment describing the shapes and colours of certain subjects, as a tapestry is woven. This is one of my "Canoe View" paintings. My partner Tom and I were canoeing on the "Wild and Scenic" Myakka River near Sarasota, Florida, before dawn. That's the best time to see wildlife, in the transition between the "day shift" and the "night shift" as he described it. And for an artist, it's just heaven. In my "threads" of soft pastel, I tried to weave my impression of that sunrise hush as first light illuminated the Spanish moss draped on the fallen oak tree suspended over the river's mirrorlike surface.

I offer a limited edition of 250 giclées at the original size of 18" x 24" on museum-quality varnished canvas, for $270; and an edition of 200 on 22" x 30" canvas for $350. There are three editions on highest-quality paper: image size 18" x 24" for $165, limited to 200; image size 22" x 30" for $240, limited to 200 pieces; and an image size of 9" x 12," limited to 500 pieces, for $60. I have signed and numbered each piece individually. A Certificate of Authenticity is available on this and all of my giclées reproductions.


Home - About Donna - Contact - Blog - How to Order - Artwork Index - Links
This site and its contents Copyright © 2010 Donna M. Kazo.
Proud to be hosted by Green Gator; powered by clean, sustainable wind energy.