Ordering Animal Portraits

Your Pet's Portrait in Beautiful Pastels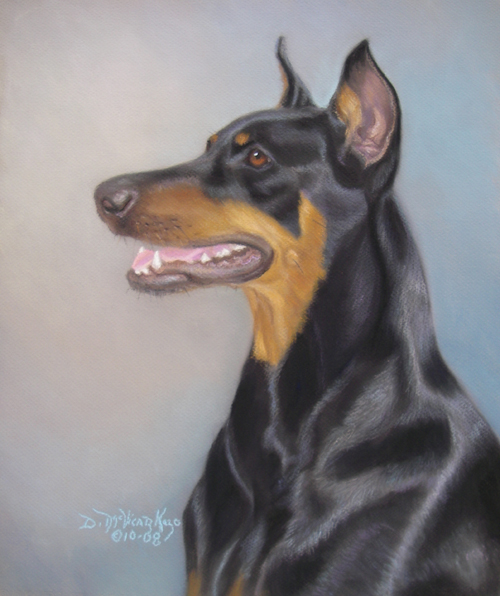 Your Unique and Irreplaceable four-footed friend deserves to be immortalized in a stunning, museum-quality painting as a lasting tribute to your Best Pal and Loyal Companion.

Resemblance Guaranteed: You Will Be Happy! Please see the galleries below for examples of past commissions of other beloved pets.
Pastel Animal Portrait Details
Richly Painted (not sketched) in soft, finest quality pastels on archival paper. After over thirty-five years of painting highly detailed portraits of animals, I can assure you that pastel is superior to any other medium in this regard!
Portrait from photographs (mine and/or yours) and sitting, if pet is available. Sufficient reference photos are very important, and I will work with you to ensure that I have all I may need
Head and neck only (full body extra) with simple background
Absolutely guaranteed resemblance
Typical size of portrait before framing is 12" x 16" (will be modified to suit your pet's proportions)
Will be professionally and carefully framed by me (many professional framers refuse to work with pastels—before framing, pastels are delicate, but once framed and under glass, they will outlast oils in color and brilliance). The frame is not included in the price, but I will work with you to select the best frame while saving you money
One animal per painting; multiple animals are possible for an extra charge
I will keep you posted on portrait's progress through email or other means (email will include photos of the work-in-progress)
Sale price for a typical single-pet, head-and-neck pastel portrait such as the one above: $450, including a $150 non-refundable deposit. (This does not include cost of framing, shipping, or Florida sales tax.)
Deposit covers the beginning of my work on your pet's portrait. When I feel I've made a good start, my preferred procedure for local clients is to schedule a sitting with your pet. If you are long-distance, we can discuss changes through email exchange of photographs. At this time, another payment of $150 is required.
Final payment is due upon delivery (or before the painting is shipped). I prefer to deliver your portrait to you in person because your happy reaction means so much to me! This final payment will include the balance due upon the painting, costs of framing, and Florida sales tax. If you are out of my range for a free personal delivery, we will work out the shipping details together.
Contact me to begin the process, or for more information!

The Elegance of Black and White: Love in Countless Tones of Gray
Here are two options to make expressing your love more affordable.
As seen in the two portraits of these well-loved Dalmatians, I can capture the all-important expression in their eyes, the detail and even their texture with my special treatment of charcoal, pencil, and pastel. This is closer in style to my full-color pastel paintings, using soft, smooth tones of gray. The background is simply the paper, which is of course acid-free. Some subjects beg to be painted in rich brown sepia on a warm-toned paper. This medium is more "forgiving" because mistakes can be corrected, unlike my ink drawings. With this style, I need "room to move" so these portraits are offered no smaller than 9" x 12" and can go up to 10" x 14" for the same price. Let me express your love for your cherished pet, or delight a loved one with the gift of a lasting memory, for only $295 (not including Florida sales tax of 6%).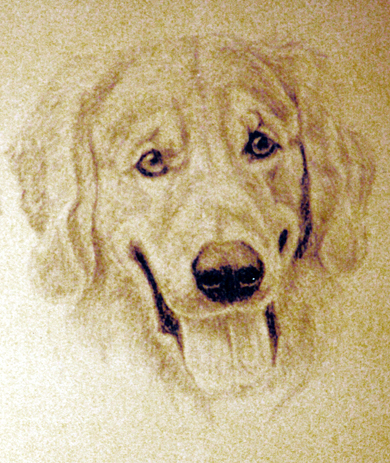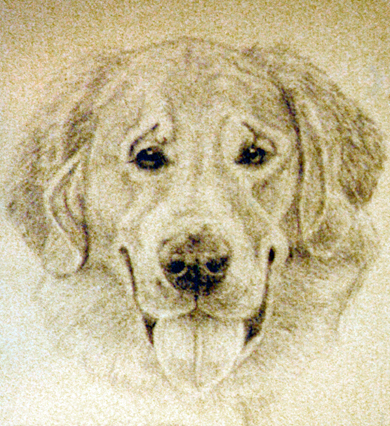 I will require photographic references; we can discuss these when you contact me with your specifications. Matting and shipping can be discussed as the project continues. These black and white portraits can be shipped anywhere and make a great gift!
Questions? Call Donna 9am-9pm at (954) 474-8194, or click here for all the ways you can contact me.


Home - About Donna - Contact - Blog - How to Order - Artwork Index - Links
This site and its contents Copyright © 2012 Donna M. Kazo.
Proud to be hosted by Green Gator; powered by clean, sustainable wind energy.