Pelican Trio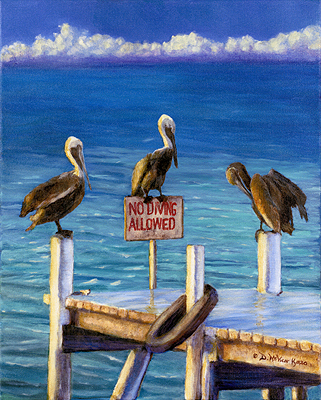 I love pelicans. They are probably my favorite bird to draw. On the wing, they remind me of PB-Y Catalina flying boats; it must be the long graceful wingspan of both bird and aircraft that delights me.

Please check out my pelican drawings in my "Line Art" gallery and you will see a few of these characters hanging around within. They are a common sight around South Florida, especially where fishing is going on, because pelicans are never shy when it comes to begging from folks who are dropping a line off a dock or a boat. However, this can backfire on the bird, when careless fishers leave their lines and hooks behind. That's why there are a number of pelican rescue stations on both coasts of Florida. If you know of one, donate to it. They do good work there, removing hooks from bills and webbed feet and fishing line cruelly cutting into flesh. Brown pelicans are also one of the birds whose numbers drastically dropped during the DDT years, when their eggshells were so fragile that the mother's weight would crush them.

Now they are making a respectable comeback, and add a welcome note to the coastal areas of the Sunshine State. The three in this painting are hanging around on a dock on Long Key, in the Florida Keys. They start out all brown, and as they age, their heads turn white, so these are of varying ages.

But this painting is not just about pelicans; it's about the water and the sky in the Keys at a certain time of afternoon. My reference photo is pretty blah; it just established the pose of the pelicans and the dock. These colors came from my heart and my memories. People who know the Keys know that these are the colors which make our hearts sing with the beauty of the place. Artists are drawn to the Keys because of these colors, and because of the unique light; the ocean surrounds each rocky, fragile bit of land and acts as a huge mirror, bouncing gorgeous light everywhere.

This painting is also about complementary colors: across the color wheel from the blue-green of the water is a yellow-orange. The slanting golden rays of the late afternoon sun gave me the opportunity to glaze the white dock with just the right hue of yellow-orange to make the blue-green really pop.

One of my favorite things about painting the ocean is when you cannot tell where the sky ends and the sea begins; the mystery of a misty horizon never fails to intrigue and inspire me. So for my horizon, I chose a mysterious purple-blue which might mean a far-off thunderstorm, and an umbrella of low clouds momentarily lit by the low brilliant sun.

If you would like to share this magic moment with me, I would be pleased to send to you a giclée on museum-quality varnished canvas, the same size as the original oil painting, 16" by 20" for $188.00. The edition is limited to 250. It is also available on paper, 16" by 20" for $120, limited to 250 pieces, and at 8" by 10" for $60, limited to 500. As always, I've signed and numbered each piece individually. A Certificate of Authenticity is available upon request.


Home - About Donna - Contact - Blog - How to Order - Artwork Index - Links
This site and its contents Copyright © 2010 Donna M. Kazo.
Proud to be hosted by Green Gator; powered by clean, sustainable wind energy.