Petunia Duet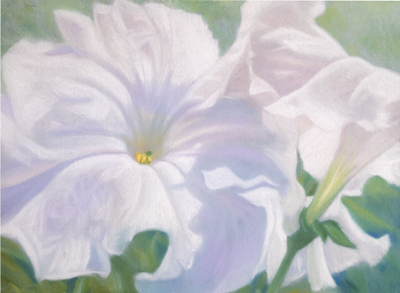 The humble petunia has often posed for me over the years. Only the white, floppy ones hold the particular qualities which fascinate me. The many hues of white captured in their petals, the dancing and lyrical shapes, the reflections, the translucency, the sensuous textures just give me a fine old time at the easel!

My original medium for these beauties was soft pastel, and I offer a limited edition of 250 giclées at the original size of 18" x 24" on museum-quality varnished canvas, for $270 per print; and an edition of 200 at the magnificent size of 22" x 30" on canvas for $350 each. There are three editions on highest-quality paper: image size 18" x 24" for $165, limited to 200; image size 22" x 30" for $240, limited to 200 pieces; and an image size of 9" x 12," limited to 500 pieces, for $60. I have signed and numbered each piece individually. Upon request, a Certificate of Authenticity is available on this and all of my giclée reproductions.


Home - About Donna - Contact - Blog - How to Order - Artwork Index - Links
This site and its contents Copyright © 2010 Donna M. Kazo.
Proud to be hosted by Green Gator; powered by clean, sustainable wind energy.