Reagan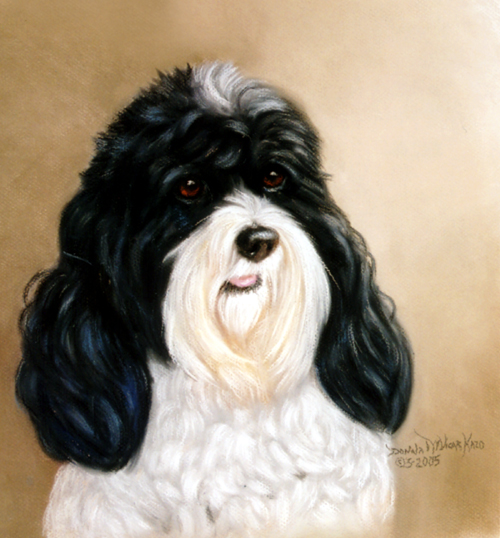 This adorable cockapoo was trained by my late husband, Dr. Tom Kazo. Not only was this smart little guy trained for basic obedience (the foundation of Dr. Tom's approach) but Reagan became a service dog to his loving master, Larry. Reagan was trained to alert whenever Larry was soon to be stricken by an epileptic seizure.

As a certified service dog, this handsome and intelligent little gentleman was not just allowed, but welcomed, wherever his owner was. Even to our wedding! I believe his portrait was the first one I signed with my new married name. It's my common complaint: I had trouble getting good photos. I was still using my 35mm Minolta back then, and as soon as I put that big black square thing in front of my face, Reagan started to look uncomfortable. We did the best we could, but I had to see him in the flesh for a sort of sitting at least twice during the portrait's progress. The reference photos did not do him justice, so once again, I had to draw on my artistic license and memory.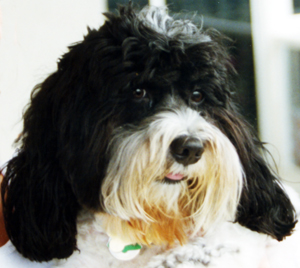 His type of coat has many challenges! The combination of poodle and cocker spaniel genes create a soft, wavy-curly texture that looks sort of "permed." Each section of hair must be carefully considered: they must make sense as to where each springs from. Even though he goes to the finest of grooming salons, he's still a guy, with hunting dogs in his pedigree. He doesn't know he's so darn cute!
Once I'd figured out the intricacies of his hairstyle as it conformed to his anatomy, everything worked out. I so enjoyed lavishing attention on his beautiful eyes. Mostly, I believe I caught his sweet, curious nature and his happy-go-lucky expression. To me, it's obvious he's saying, "Where are we going to next, folks? Oh boy!"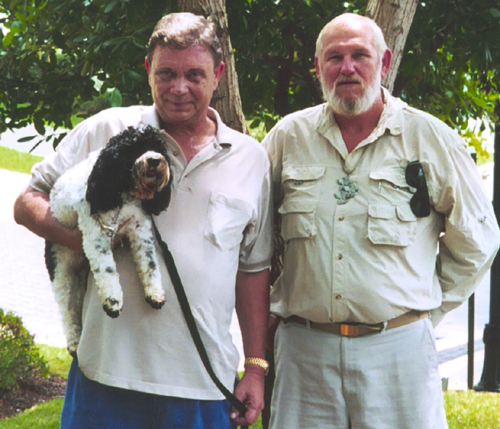 Here's my happy subject, with owner Larry Day and their good pal, Dr. Tom, during a training session.


Home - About Donna - Contact - Blog - How to Order - Artwork Index - Links
This site and its contents Copyright © 2010 Donna M. Kazo.
Proud to be hosted by Green Gator; powered by clean, sustainable wind energy.