Okefenokee Suite #4: The Round Top Tree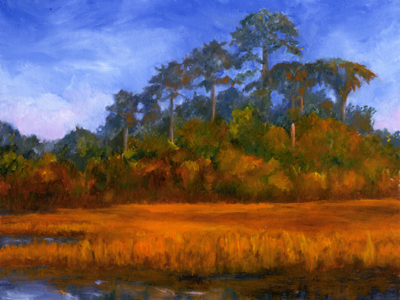 This is one of my "Canoe View" paintings, because only a canoe can reach this remote camping platform, called Round Top, in the Okefenokee Wildlife Refuge. As we packed our canoes after a night on the platform, the early morning sun boldly illuminated the rich autumn hues of the swampscape north of the platform. Of the four oils in my Okefenokee Suite, this one is the loosest and most impressionistic; we had to get paddling to the next campsite!

The original oil painting was 12" by 16" on canvas, and I offer a giclée edition on museum-quality varnished canvas, limited to 250 pieces, at this same size, for $155 each piece. This image also looks wonderful at an expanded size, and I offer an edition of 200 on 18" x 24" canvas for $270 each. There are also two editions on highest quality acid-free paper: an edition of 200 with an image size of 18" x 24" for $165 each, and one edition of 500 with an image size of 9" x 12" for $60 each. I have numbered and signed each piece individually, and a Certificate of Authenticity is available on each of my giclée reproductions.


Home - About Donna - Contact - Blog - How to Order - Artwork Index - Links
This site and its contents Copyright © 2010 Donna M. Kazo.
Proud to be hosted by Green Gator; powered by clean, sustainable wind energy.