Solar Flare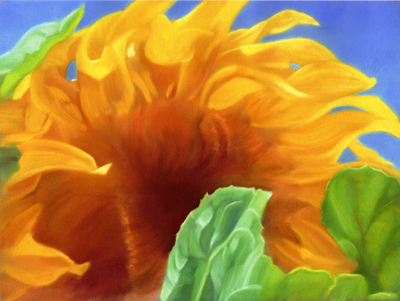 This magnificent sunflower stood almost seven feet tall! The breeze from the lake ruffled its glorious petals, and their shapes reminded me of pictures of the sun's flares as they leapt from its surface. I always enjoy the stained glass effect of sunshine on leaves. The original soft pastel was sold, but the magic of giclée printing allows me to share this glowing image with you. I promise that it will bring summer into your home!

To share this glorious image with the world, I offer a limited edition of 250 giclées at the original size of 18" x 24" on museum-quality varnished canvas, for $270 per print; and an edition of 200 at the magnificent, expanded size of 22" x 30" on canvas for $350 each. There are three editions on highest-quality paper: image size 18" x 24" for $165, limited to 200; image size 22" x 30" for $240, limited to 200 pieces; and an image size of 9" x 12," limited to 500 pieces, for $60. I have numbered and signed each piece individually. Upon request, a Certificate of Authenticity is available on this and all of my giclée reproductions.


Home - About Donna - Contact - Blog - How to Order - Artwork Index - Links
This site and its contents Copyright © 2010 Donna M. Kazo.
Proud to be hosted by Green Gator; powered by clean, sustainable wind energy.