The Storm Gods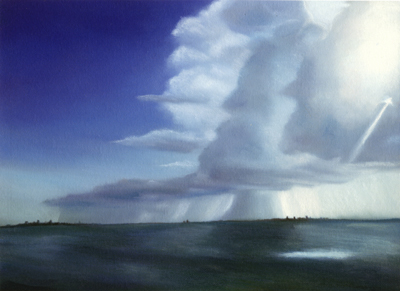 Dramatic thunderstorms are a major player in our South Florida summers. This is one of my "Canoe View" paintings. From our canoe on Biscayne Bay, we witnessed this magnificent tempest as it pounded Miami and Key Biscayne. Oddly enough, the water nearby was remarkably flat, the air hushed as the storm inexorably marched on, drawing all energy into itself. I easily imagined the stern faces of storm gods in the towering clouds, as the sunbeam punched through like a spotlight! The rich sky and sea colors were captured beneath my fingers, using my favorite medium of soft pastel on paper.

To share this fleeting phenomenon with the world, I offer a limited edition of 250 giclées at the original size of 18" x 24" on museum-quality varnished canvas, for $270. Thanks to the magic of giclée printing, my Storm Gods expanded heroically into a larger size of 22" x 30" and is available as an edition of 200 on canvas for $350 each. There are three editions on highest-quality paper: image size 18" x 24" for $165, limited to 200; image size 22" x 30" for $240, limited to 200 pieces; and an image size of 9" x 12," limited to 500 prints, for $60 per print. I have signed and numbered each piece individually. A Certificate of Authenticy is available on this, and all of my giclée reproductions, upon request.


Home - About Donna - Contact - Blog - How to Order - Artwork Index - Links
This site and its contents Copyright © 2010 Donna M. Kazo.
Proud to be hosted by Green Gator; powered by clean, sustainable wind energy.