Okefenokee Suite #2: Sunrise over Chase Prairie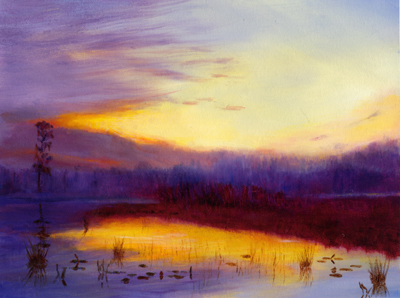 This is one of my "Canoe View" paintings, because only a canoe can reach this remote camping platform in the Okefenokee Wildlife Refuge. My canoe paintings are an adventure in themselves, as I challenge myself to make water look, well, watery! This stunning sunrise greeted me as I peered from the door of my tent. The alligators beneath the platform had grunted to each other the whole night, and this jewel-toned landscape, set against a soft pastel sky, was my reward.

The original oil painting was 12" by 16" on canvas, and I offer a giclée edition on museum-quality varnished canvas, limited to 250 pieces, at this same size, for $155 each piece. This image also looks wonderful at an expanded size, and I offer an edition of 200 on 18" x 24" canvas for $270 each. There are also two editions on highest quality acid-free paper: an edition of 200 with an image size of 18" x 24" for $165 each, and one edition of 500 with an image size of 9" x 12" for $60 each. I have signed and numbered each piece individually, and a Certificate of Authenticity is available on each of my giclée reproductions.


Home - About Donna - Contact - Blog - How to Order - Artwork Index - Links
This site and its contents Copyright © 2010 Donna M. Kazo.
Proud to be hosted by Green Gator; powered by clean, sustainable wind energy.