Okefenokee Suite #1: Sunset on Chase Prairie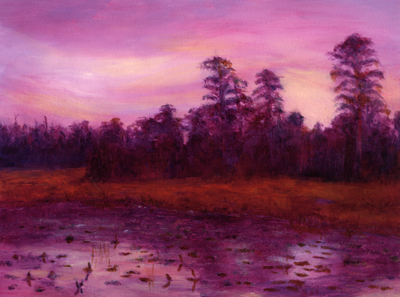 This is one of my "Canoe View" paintings, because only a canoe can reach this remote camping platform in the Okefenokee Wildlife Refuge. After a long hard day of paddling to the campsite, this luminous sunset was a well-deserved reward for us tired canoe-campers. We tied our canoes to the 20' x 30' Round Top platform, pitched our tents and cooked our dinner while the cypress forest turned a luminous lavender with a glow of golden clouds behind it. Sandhill cranes flew over, and I actually played with their silhouettes in the sky beyond the trees, but it looked artificial. I'll just have to call on my many rich memories of this magical place.

To share these Okefenokee memories with you, I offer a giclée edition on museum-quality varnished canvas, limited to 250 pieces, at the original size of 12" by 16" on canvas, for $155 each piece. We've discovered this image also looks magical and rich at an expanded size, so I offer an edition of 200 on 18" x 24" canvas for $270 each. There are also two editions on highest quality acid-free paper: an edition of 200 with an image size of 18" x 24" for $165 each, and one edition of 500 with an image size of 9" x 12" for $60 each. I have signed and numbered each piece individually, and a Certificate of Authenticity is available on each of my giclée reproductions.


Home - About Donna - Contact - Blog - How to Order - Artwork Index - Links
This site and its contents Copyright © 2010 Donna M. Kazo.
Proud to be hosted by Green Gator; powered by clean, sustainable wind energy.