Teapot Conversations #1: A Zinnia For You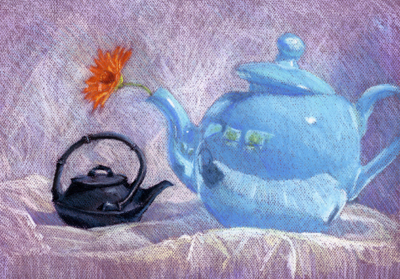 Why are teapots so endearing? Don't they speak to us, even seem to interact and hold conversations with each other? My teapot-based still lifes are a tad whimsical, hence, the jaunty tilt ot the big turquoise pot's lid, and the serendipitous insertion of my homegrown orange zinnia gave this painting just the right comment. And of course, the reflections were a fun challenge! I had to paint at top speed in order to not lose the light in my studio, and to make sure our kitties didn't decide to take a nap in the middle of my still life setup.

The original, painted in rich strokes of soft pastel on paper, was around 12" x 18", and I offer an edition of 500 giclée reproductions, on 10" x 16" canvas, for $140 each. This image is also available on highest-quality paper, image size 10" x 16", limited to 750 prints, for $75 each. I have signed each piece individually, and a Certificate of Authenticity is available upon request.


Home - About Donna - Contact - Blog - How to Order - Artwork Index - Links
This site and its contents Copyright © 2010 Donna M. Kazo.
Proud to be hosted by Green Gator; powered by clean, sustainable wind energy.