Amaryllis Tapestry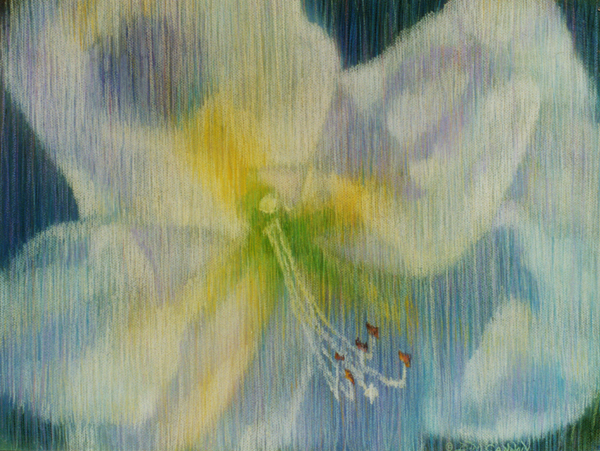 It's no secret that I love to paint white objects! There are at least 88 works of art in my Shell Fragments series, which taught me so much about handling translucency, reflection and glow on white images. By starting with white, the artist can see how other colors affect it quite easily. Then, that knowledge can be applied to other colors which are not so readily observed to have been affected.

In the case of this huge amaryllis flower, however, I had a splendid time playing with white and near-white pastels in one of my favorite techniques. I call this my "tapestry" technique because it involves drawing long threads of pastel pigment straight down as if I were, well, weaving a tapestry. No cross-woven threads, however. You may see this same technique used in a waterscape, "Myakka River Tapestry." It is a difficult method to practice but the results are always worth it; do you agree?

The original painting was about 18" x 24," painted in soft pastels on paper. Although it has yet to become a limited edition giclée, thanks to CafePress, I am able to share its image with you in several ways, all of which are very budget-conscious. Please follow this link to my CafePress Shop and enjoy the glow of my amaryllis!


Home - About Donna - Contact - Blog - How to Order - Artwork Index - Links
This site and its contents Copyright © 2010 Donna M. Kazo.
Proud to be hosted by Green Gator; powered by clean, sustainable wind energy.